Sweet Marjoram: Notes and Essays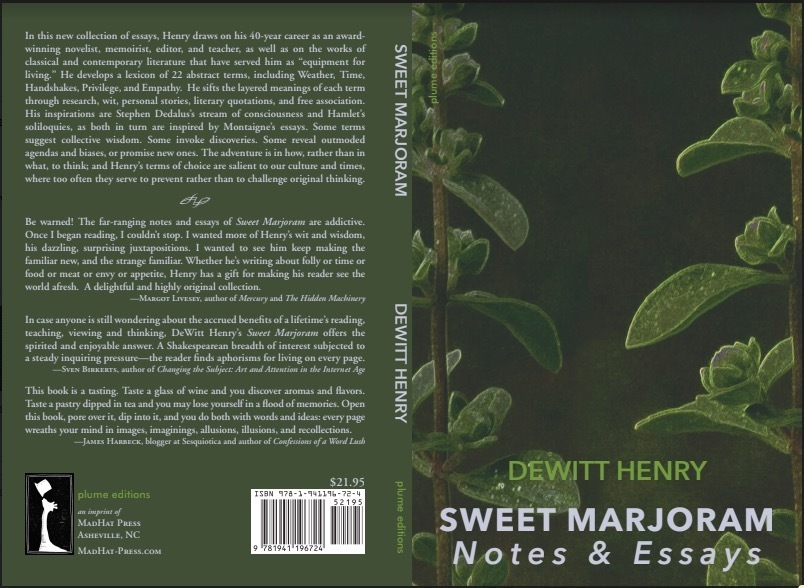 In this new collection of essays, Henry draws on his 40-year career as an award-winning novelist, memoirist, editor, and teacher, as well as on the works of classical and contemporary literature that have served him as "equipment for living." He develops a lexicon of 22 abstract terms, including Weather, Time, Handshakes, Privilege, and Empathy. He sifts the layered meanings of each term through research, wit, personal stories, literary quotations, and free association. His inspirations are Stephen Dedalus's stream of consciousness and Hamlet's soliloquies, as both in turn are inspired by Montaigne's essays. Some terms suggest collective wisdom. Some invoke discoveries. Some reveal outmoded agendas and biases, or promise new ones. The adventure is in how, rather than in what, to think; and Henry's terms of choice are salient to our culture and times, where too often they serve to prevent rather than to challenge original thinking.
"DeWitt Henry's SWEET MARJORAM is an astonishing hybrid, a bracking intellectual call-to-arms that subverts all categorizations. Poetic, impassioned, insightful and original, these far-reaching medications are vital and beautiful and, at this moment, the perfect antidote to the base soundbites that define our culture."--Bret Anthony Johnston, author of REMEMBER ME LIKE THIS.
"In case anyone is still wondering about the accrued benefits of a lifetime's reading, teaching, viewing, and thinking, DeWitt Henry's SWEET MARJORAM offers the spirited and enjoyable answer. A Shakespeareian breadth of interest subjected to a steady inquiring pressure--the reader finds aphorisms for living on every page."--Sven Birkerts, author of CHANGING THE SUBJECT: ART AND ATTENTION IN THE INTERNET AGE
"Be warned! The far-ranging notes and essays of SWEET MARJORAM are addictive. Once I began reading, I couldn't stop. I wanted more of Henry 's wit and wisdom, his dazzling, surprising juxtapositions. I wanted to see him keep making the familiar new, and the strange familiar. Whether he's writing about folly or time or food or meat or envy or appetite, Henry has a gift for making his reader see the world afresh. A delightful and highly original collection.--Margot Livesey, author of MERCURY and THE HIDDEN MACHINERY
"DeWitt Henry's SWEET MARJORAM is as delicious as the title suggests, a rich, evocative, brilliant collection chronicling all that is pungent and fresh in the wide world, keenly observed by a modern-day Montaigne. Read this one, but slowly, savoring every word." --Dinty W. Moore, author of THE MINDFUL WRITER.
"SWEET MARJORAM is terrific. Tons of sharp, intelligent insights, and all sorts of oddly unexpected, intriguing connections. The pacing is rapid-fire. It has a wonderfully defined shape and heartfelt vision. A powerful, passionate collection."—James Brown, author of THE LOS ANGELES DIARIES and THIS RIVER.